What's Next for the Events Industry?
Why Inclusivity, Seamlessness and Sustainability are Driving Digital
Blog - 5 mins read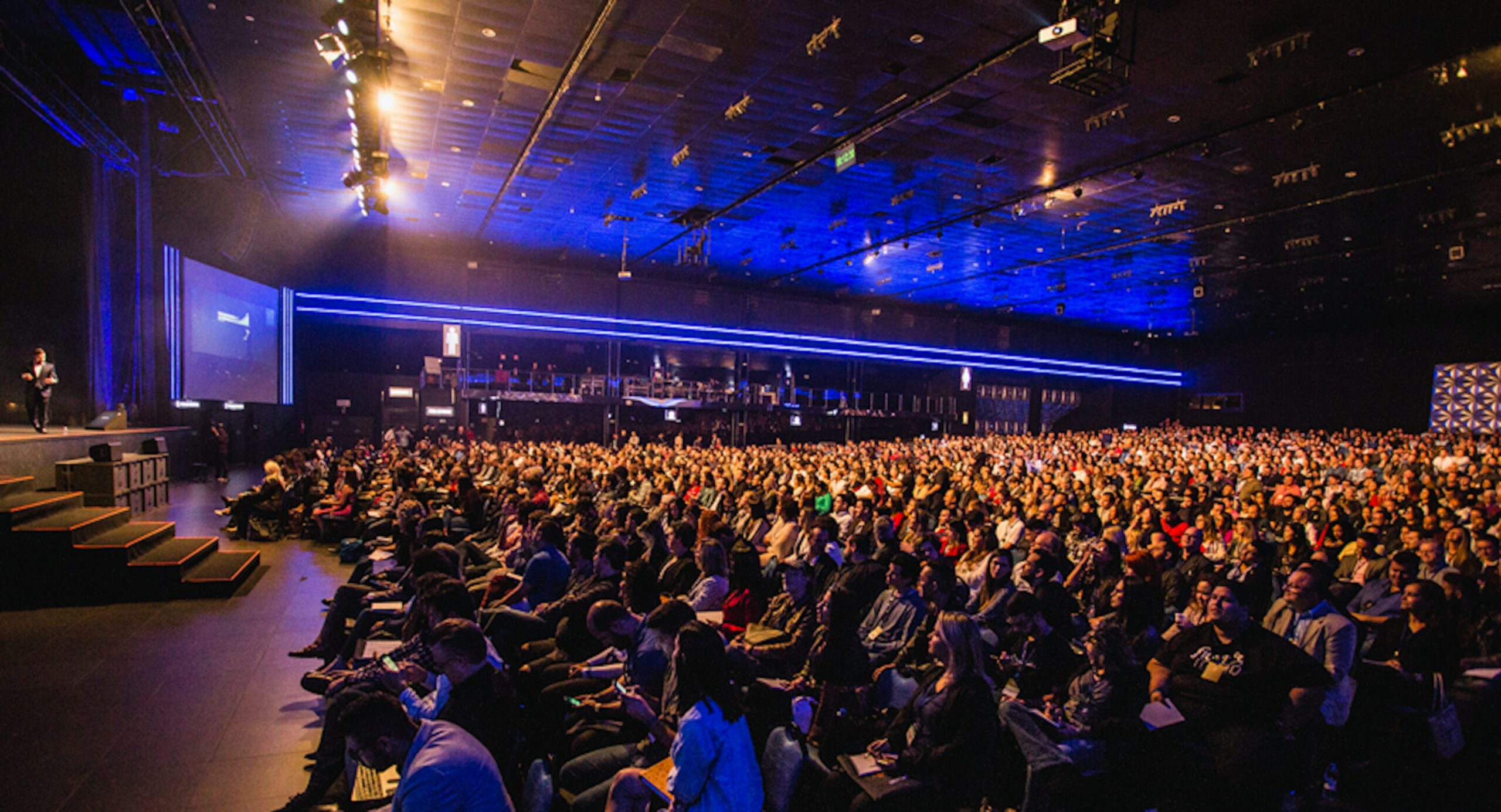 After the highs and lows for the event's industry over the past two years, Confex returned to London's ExCel this month. The turn-out and general buzz of the show confirmed that in-person events are back with a bang. But, given the changes the industry has seen over the course of the pandemic, the future of the industry is by no means clear. So, what is next for the events industry?
We caught up with event professionals at Confex to gauge their thoughts and the findings might surprise you: less than a fifth of the attendees we surveyed expect hybrid events to reduce in prevalence in the coming year, despite attendance at in-person conferences and exhibitions returning to pre-Covid levels.
In fact, 37% expect to work on even more digital events in 2022 than in previous years. Meanwhile, 27% expect to see the same amount as the last 12 months, and only 18% expect to see fewer.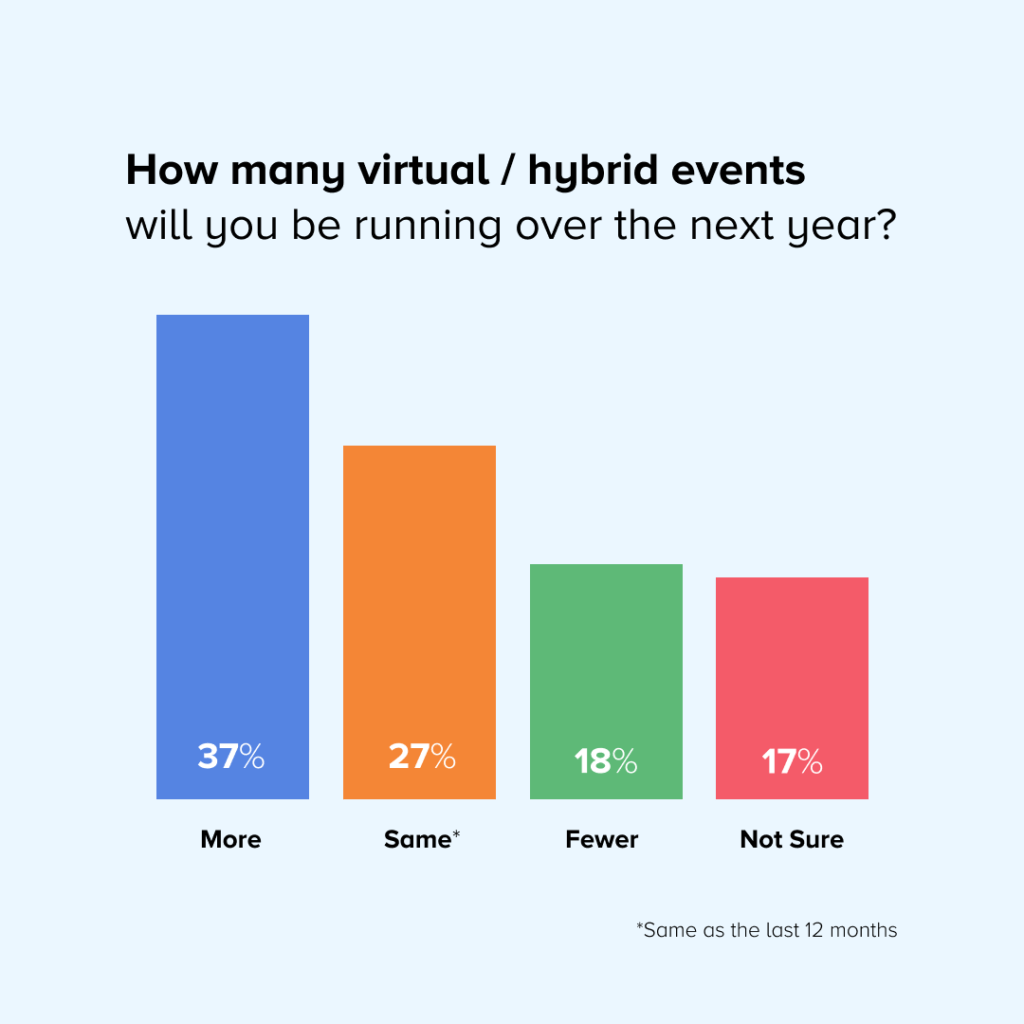 What's driving this sustained interest in digital? The industry pointed to three factors: inclusivity, seamlessness and sustainability.
Inclusivity
Hybrid not only offers people a choice of how to engage with an event – in-person or online – but also provides an entirely new option to those who wouldn't normally even consider attending. As one Confex delegate told us: "A lot of companies can now have an international team attend an event, which maybe they could never do before. So, it's more inclusive."
And it's not just international teams who feel the benefit. Some people are uncomfortable with attending real life events, perhaps for health or accessibility reasons, or they simply can't spare the time for in-person.
That's why the British Society for Rheumatology's forthcoming annual conference will be fully hybrid, explains Director of Marketing and Education, Victoria Logan. "Medical professionals attend conferences because they have to keep up to date with the latest practice and research," says Victoria. "While some people love attending, others find it harder to travel and be away for three days, so virtual will always be an attractive option for them."
That inclusivity doesn't just benefit attendees – sponsors are also reaping the rewards of higher engagement. Fiona Marshall, Senior Event Manager at Evolution International, says: "Sponsors actually like the amount of engagement they've gained by having a wider audience through virtual. We've had events that normally have 300 physical attendees, and the sponsors have seen 2,000 people log in."
Seamlessness
For event organisers, hybrid offers opportunities to engage attendees in myriad different ways – and many are getting increasingly creative with that scope.
"Rather than thinking that an event is one thing, and publishing is a separate thing, we're saying that we have a community that comes to us for information," says Sarah Williams, Head of Events at Faversham House.
"And that information can be shared in many different ways. They could subscribe to a magazine, they could go to webinars, they could go to exhibitions or awards. It's all part of that seamless customer journey."
As they return to physical events, Sarah adds, the brand is increasing revenues by packaging up physical and digital content. "You might buy a ticket to a physical conference, and then also have the opportunity to attend a digital webinar or a specialist roundtable as part of that overall ticket. So, it's really just blending those worlds together."
As hybrid evolves, digital innovation is only likely to increase. "People want more from a hybrid event – they don't just want to sit behind a screen," argue Katy Harrop and Gemma Green at Gustaf Creative. "They're reading articles about holograms and so on, so, what's the latest technology we can provide? The budgets are going to keep growing, as organisers try to be more collaborative and create that wow factor."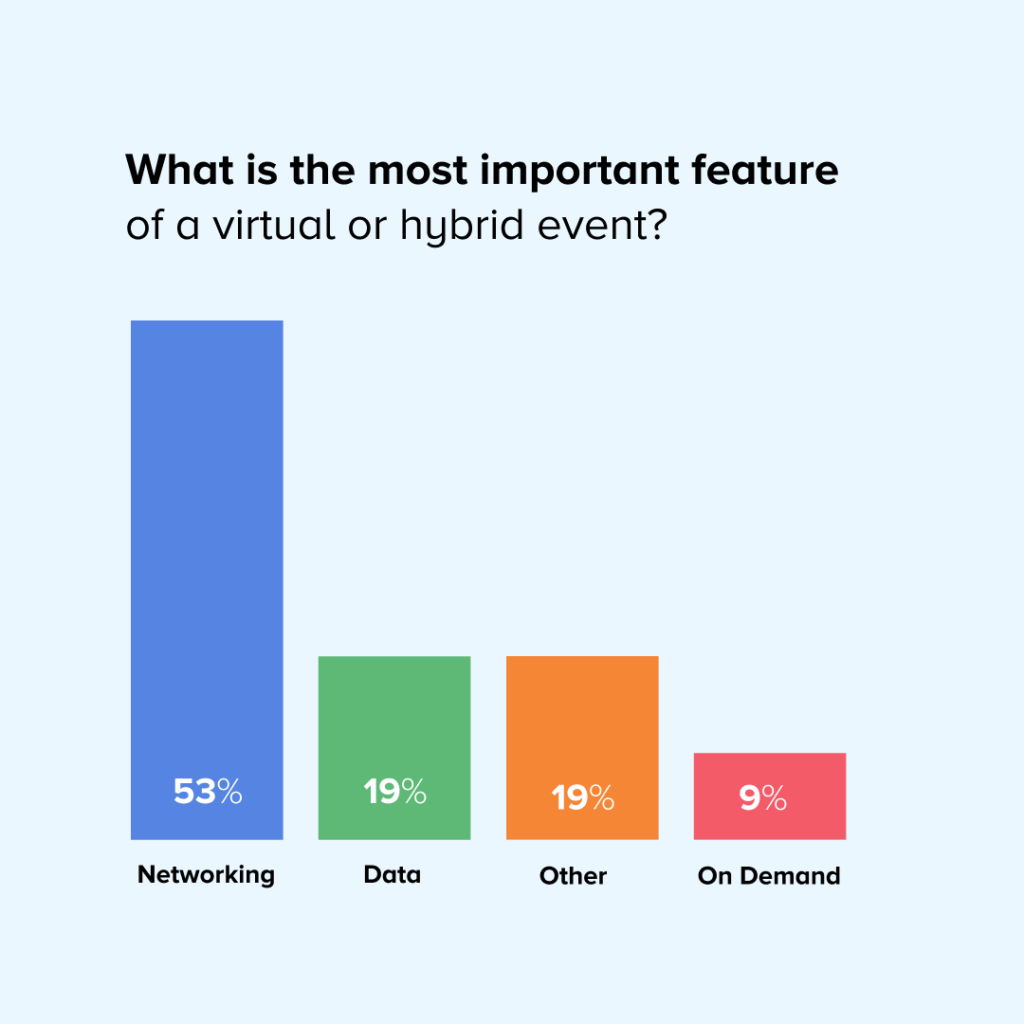 Sustainability 
Dale Parmenter, CEO of DRPG, predicts that face-to-face events will be back to pre-Covid levels "by the end of the year" as people seek in-person connections – but says environmental considerations will also be a factor. "Where I think there might be growth in digital, is from a sustainability point of view," he says. "Typically events are held at one hub. But if we create multiple hubs and link those hubs together virtually, we can reduce the level of travel. So, there could be one hub in New York, one in London, one in Paris, and so on." 
This approach to hybrid will be key for event organisers and brands as we move towards NetZero. By blending the benefits of face-to-face with the digital capability of global connectivity, we can have a huge impact on our carbon footprint.  
Closing thought 
While the benefits of hybrid for inclusivity, seamlessness and sustainability are clear, Samantha Roythorne, Managing Director, Totem, says demand for in-person experiences is still growing.  
 "We still have a lot of virtual webinars coming up, and we're also managing a large amount of hybrid events to bring together our two audiences," she says.   
"But it's important to say that there's always going to be to some events which naturally go back to in-person. Part of the role of hybrid is to introduce a virtual element such as an app, or online networking that takes place before and after the physical event. These elements can really help to increase the longevity of your event."  
Thank you to all of the attendees of International Confex who provided us with their views.