5 Key Takeaways from the FT webinar: Balancing In-Person and Digital Interactions in the Financial Sector
Financial Times Webinar
Blog - 5 mins read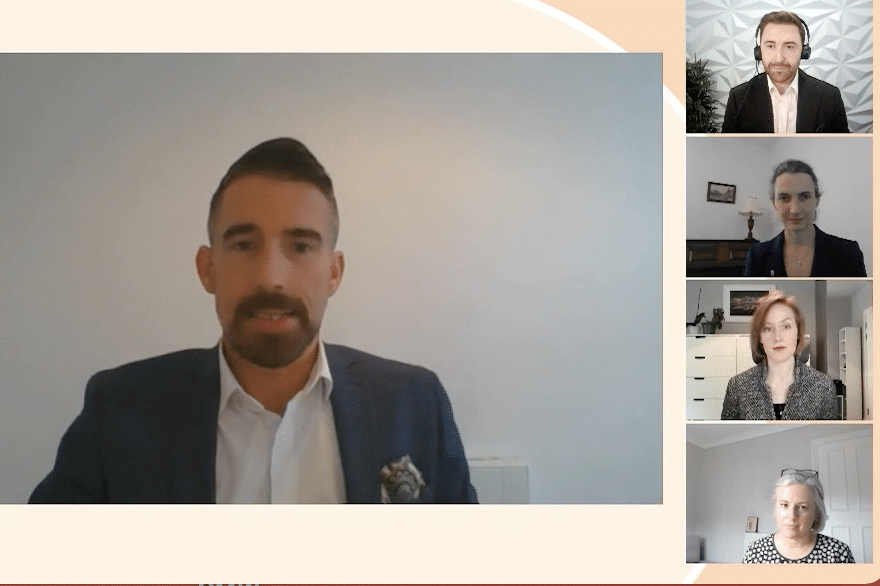 Balancing in-person and digital interactions is a topic that many organisations are grappling with. Given the critical nature of high-value transactions this is particularly acute within the financial service sector.
In addition to being more cost-effective, virtual events and online meetings cut travel time and can help meet ESG targets. So how can firms within financial services balance digital and in-person without compromising on brand perception or quality of experience ?
Our recent webinar with the FT, "Optimising Client interactions in the finance sector', examined these questions and more. Chaired by Claire Jones, International Economy News Editor at the Financial Times, an hour long discussion took place between Isabel Green, Head of Investor relations at Rolls-Royce; Danilo McGarry, Head of Digital Transformation at Alter Domus; Charlotte Lamb, Demand Generation Director at BNY Mellon; and Totem's very own Matt Ryan.
Here, we're sharing our key takeaways from the webinar, to explain and highlight the importance of a clear strategy for digital meetings and events in financial services.
1. It's time to invest in Digital Hospitality
The financial services sector spends over £18 billion a year on office space, and there's no expense spared on corporate hospitality, either – with one firm reported to spend over £100million in a single 12 month period. It's therefore clear that organisations understand the importance of investing to communicate prestige and esteem in the physical world. However, that level of brand quality is rarely demonstrated in the digital environment with platforms like Zoom and Teams delivering interactions that fall well short of the high standards expected in client-investor relationships.
As Matt reflected during the webinar:
If you have an investor meeting in a generic platform, that's akin to renting a cheap meeting room and pinning your logo to the wall as personalisation.
While in-person interaction is irreplaceable, digital platforms must strive to offer personalised, professional experiences that align with a brand's identity.
2. Trust is paramount, build it properly
Trust, in any sector, is built on communication, openness and transparency. We may never be able to truly recreate in-person experiences online, but there are an ever-growing range of digital products that can help organisations to build better relations with clients digitally.
By way of an example, Charlotte highlighted the way mobile banking apps have improved customer experience and in turn increased trust.
This experience-centric philosophy can be replicated by building digital destinations for prospects, clients and investors to engage with a brand and its content. By surrounding people with resonant articles, reports, videos and podcasts, you become a valuable resource. Use the same environment to host and deliver webinars, AGMs or quarterly updates, and you become a desirable destination, as well.
Credence and familiarity are built one touchpoint at a time. By creating compelling, relevant content we can establish a sense of belonging, and loyalty to our brand, and deliver higher quality leads and increased client retention to our fee earners.
3. Data is key now, and in the future
It's clear that AI has the power to fundamentally change the way we do business, to drive efficiencies, and to deliver personalisation at scale. The opportunities within financial services are huge, but as Danillo highlighted;
AI relies on data. As long as you provide it with good data, it's going to do great things in making events more interesting
Every digital interaction with your audience is an opportunity to learn about an individual, what topics interest them, what content they engage with, when and for how long. By working with the right technology partner, organisations can collect this valuable first party data, taking a single customer view across every engagement with their brand.
In turn, this empowers personalisation of experiences, curated content, and tailor-made sales and marketing outreach – and can better fuel your AI engine of the future…
4. Better in more ways than one
There is no doubting the positive environmental impact of holding meetings and events digitally. Whilst face to face is important for building relationships and sometimes for closing out deals, a more pragmatic view to meetings is needed.
As Matt pointed out we need to review how much better in-person meetings actually are.
Are they eight times better?!...
"If you're going to meet a client in Edinburgh or in Berlin that's probably two days out of your schedule. You could have had eight good meetings in that period of time."
Isabel echoed this point adding that "It's becoming more accepted to replace a few more of those with a virtual interaction, which is good for efficiency of time and good for carbon emissions."
There's also the not-so-small matter of impact. The UK Climate for Change studies suggest if all meetings here were held online, we'd avoid dumping 1.5 million tonnes of CO2 into the atmosphere…
5. Don't stand still
The introduction of digital interactions like video calls and virtual events were largely forced on us as a result of Covid. Whilst the sector adapted quickly in the face of the pandemic – implementing technology to keep the lights on and business functioning – we are now four years on and many organisations are still relying on these same technologies that fall well short of what clients, prospects and teams deserve.

Summary
The sector is at a crossroads, where blending in-person and digital interactions can lead to more sustainable, efficient, and inclusive practices. As technology continues to evolve, the industry must adapt to maintain brand values, build trust, and stay relevant in a rapidly changing world. It's not about replacing the in-person interactions, more about complementing them and providing the tools to help develop relationships in the new world we live in.
The next time you're in a virtual meeting or event, look around and ask yourself if your digital hospitality is up to scratch.