Do you really own the relationship with your audience?
For many brands, this is the ultimate goal, but the reality can look quite different. We part with a huge amount of budget in order to put paid ads out on social media, Google and other third-party platforms, as well as distributing our content across different industry publications and our own social media channels.
But ultimately, we don't truly own any of these audiences or their data. That's why they are referred to as a rented audience.
Relying on a rented audience is expensive and runs the risk of your content being de-prioritised beyond your control. But there is a much cheaper and more effective way to convert prospects – by building a direct relationship with your audience through your owned media. This includes the content you put on your website, such as blog articles, as well as the live and on-demand content from events.
Of course, meeting your potential prospects where they are is always necessary to some extent, but when we don't have a strategy running in tandem for building an audience of our own, we run the risk of;
– losing brand traction with potential buyers
– finding it harder to convert existing prospects already in the funnel.
In this blog, we'll explore how to build a stronger pipeline by bringing your owned media experience into the twenty-first century with a digital audience home.
Let's dive in.
What is a digital audience home?
The digital audience home is a single engagement hub for all your media and events that puts the buyer (or existing customer for that matter) at the centre of the experience. It's all about offering "binge-worthy" learning experiences in an environment free from distraction and adding a human voice to your brand.
It puts an end to the content cul-de-sac and the somewhat artificial lines marketers have drawn between events and the rest of their content. Blogs, e-books, videos, webinars, podcasts, virtual events,  courses, product demonstrations  – all of it can be accessed from one destination as part of your website. And it offers the possibility of evolving your membership base into a fully-fledged community with peer-to-peer networking – should you choose.
The result is a seamless brand experience and frictionless audience journeys which more closely meet the needs of today's buyers.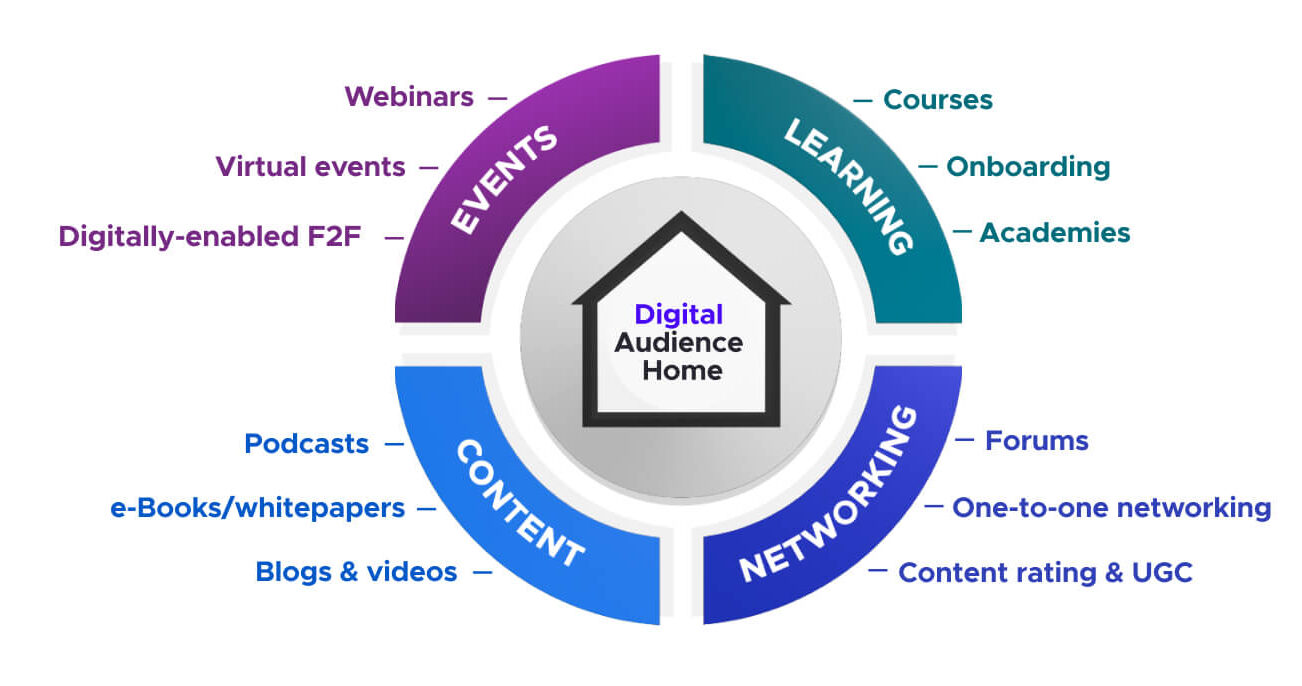 Why focus on an owned audience?
Avoid hostage-taking by third-party algorithms
When you put out content on third-party channels you are at the mercy of their algorithms. The organic reach of social posts has halved in recent years, the average reach of a Facebook post, for example, has dropped from 11% to just 5.2%. And when it comes to paid advertising, the industry average performance is startlingly low; only around 0.8% of traffic converts into a phone call.
Take ownership of buyer relationships and Account Based Marketing (ABM)
When we only rely on our owned social media pages we build followers, but we compete with everyone else for share of their timeline. On third-party sites, readers can easily get distracted and go elsewhere. With a digital audience home, we have a captive audience that brands can, if they choose to, evolve into an online community. We can start to offer exclusive events, content and private ABM groups that start stronger relationships.
Better MQL conversion rate
Because we are creating an exciting environment to learn, our prospects get to know our brand before they are ready to buy and, with an uninterrupted content flow, become warmer leads. It's a far cry from the paid ad that pushes an e-book on a closed landing page which disappears into a download folder followed by a cold sales call. Now we can track our prospect's interest data over time and follow up with strategic ABM outreach.
Better intelligence
On third-party channels such as social media adverts, you can track clicks and impressions but until prospects fill in a form, we can't see who has engaged at a first-person or account level. On our branded social accounts, we can see how a user might have interacted, but can't track engagement through to our website. With an audience home, you can track and own the data across the complete learning pathway each individual chooses, by using one platform for all your engagement activities and building a database of opted-in members.
First-party data.
The onset of new cookie laws in 2024, ad-blockers and the changes already underway in some browsers will make it harder to gather third-party data about someone else's audience. First-party data is the future and brands that embrace it can see revenues multiply by up to 1.5x – 2.9x according to Boston Consulting Group.
Improve SEO and reduce bounce rates
Stickier content experiences, arranged into binge-worthy viewing means audiences are more likely to hop from one type of media to another, reducing the likelihood of high bounce rates impacting your SEO.
Read also > Winning the battle for attention with your key customers and prospects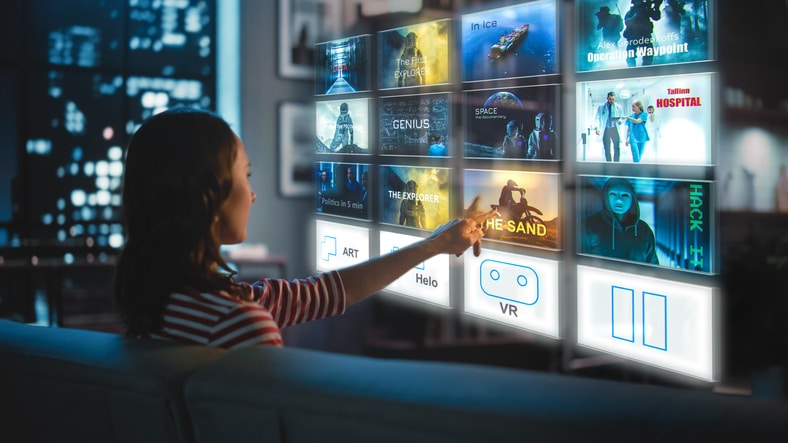 A single view of the digital engagement journey
When we start to think of engagement as a non-linear journey across several touchpoints, (reading a blog, attending a webinar, scanning a QR code at a face-to-face event, listening to a podcast, watching product videos) it becomes increasingly important to connect the dots.
Putting the pieces together in the engagement puzzle is not always easy. We need to educate our audiences and allow them to freely explore our content first, but we also need them to ideally hand over first-party data that reveals their identity.
A digital audience home provides publicly available content accessible to all from your website, then more exclusive insights to those who subscribe. Clients and prospects like it because there's only one form to fill in in order to access exciting content and events tailored to their interests.
Once they've started to build an audience, marketers benefit from a single joined-up view of each individual's engagement journey that seamlessly flows from one media to the next.
Now you can see what blogs they have viewed, webinars they have attended, e-books downloaded, product demos watched etc. It's altogether better than trying to piece things together from separate webinar and virtual event platforms, Slack communities, YouTube channels, your CMS and video hosting software. Let's face it – with so many different platforms to manage engagement, only half the story (at best) is ever easily visible from your CRM.

Time to let go of the outdated website resource centre?
You may be thinking "but I already have a resource centre." Here are all the reasons you need a digital audience home to replace or, at least supplement it.
It looks like it was built in the early 2000s
Let's face it, most website resource libraries weren't really designed for lots of video content. They simply can't keep up with the more modern way consumers interact with media in their daily lives.
You want to invite them to the "club" not passively scroll the brochure
Getting people to become members of your digital audience home starts to build a relationship with your brand – even with those not ready to engage. Going a step further and creating permission-only private groups makes the experience even more focused and interactive with micro-events and discussions.
Too many barriers
Fill in a form to download one piece of content, then fill in a form to register for an event. Remember a password to a client area. Fill in another form for a webinar. Being an audience member can, quite frankly, be very frustrating.
By focusing more on improving our owned media experience we'd have a better shot at sustaining engagement over long, complex buying cycles. We'd arouse more curiosity by putting the human beings of our brand front and centre and we'd break down the artificial silos between 'live' events and the rest of our digital content.
Renting an audience is one thing.
But it doesn't add up to much if we can't bring them "home."
---
Want to see the digital audience home in action? Get in touch to find out more.