Over the next twelve months and possibly beyond, we're facing up to rising costs and audiences who are increasingly selective with their time. Planners will need to double down on event data while continuing to reimagine and readjust their event portfolio to deliver compelling audience journeys.
Here are some key trends and strategies to add value to your business.
1. Increasingly time-poor audiences may mean event formats have to be adjusted
The hybrid working trend means it's simply more of an ask to get delegates to leave their home to travel to events. Audiences are increasingly selective about what they chose to attend, not least because since the pandemic, pressure on our time also seems to have increased. A recent study found that UK and US remote workers were spending an extra 2.5 hours per day on work tasks, compared to before the pandemic.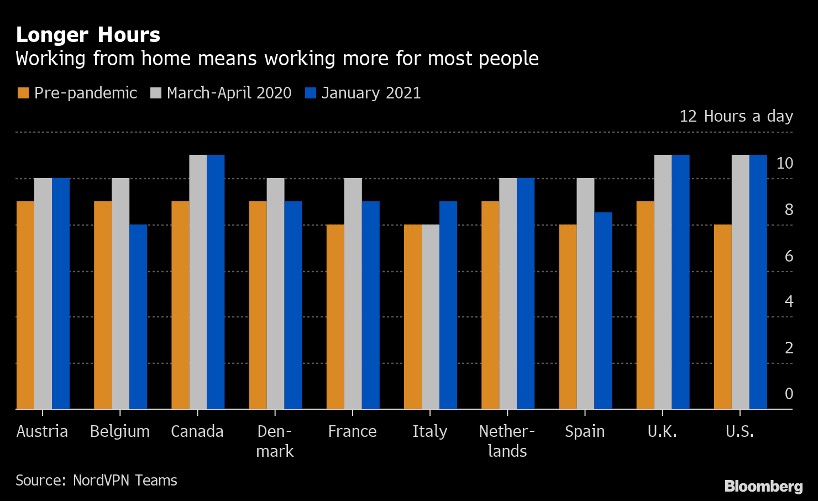 The frank reality is that with less time to spare, delegates will likely be weighing up attending your event versus a competitor's. Obviously, this means you need to communicate the value proposition of your content clearly and start your event marketing earlier. But it also means you need to pay close attention to what your audience base really wants to get out of it. If like the majority of delegates attending in-person events this year, networking is their top priority, you may need to adjust agendas to create more time for this. Expanding on this idea at a recent Skift Meetings event where this trend was identified, Greg Bogue, Chief Experience Architect at Maritz Global Design recommended shifting some or all of the content from your general address to pre-recorded video available to watch on-demand in the run-up to or after the event.
Imagine if parts of your keynote address could be played in the lobby or watched on a mobile phone in a taxi on the way in. This would provide delegates with more talking points over breakfast while making way for more networking time.
2. In-person dominates but highly focused virtual events will see a resurgence
Our love of in-person events isn't going away and despite the hefty price tag, flagship events will continue to take place in person. However, there's certainly still a role for highly-focused virtual events in 2023. With a renewed focus on ESG, travel budgets under scrutiny and time a precious commodity, expect to see short and punchy virtual events, micro-events and of course webinars continuing to perform well. Tackling just one theme or generating lots of opinions on how to solve a single problem will be the easiest way to deliver value.
Virtual events can also be a very cost-effective way to test new ideas. With the costs of hosting in-person events rising exponentially, many businesses will turn to virtual channels as a more cost-effective way to test the market for new products or services.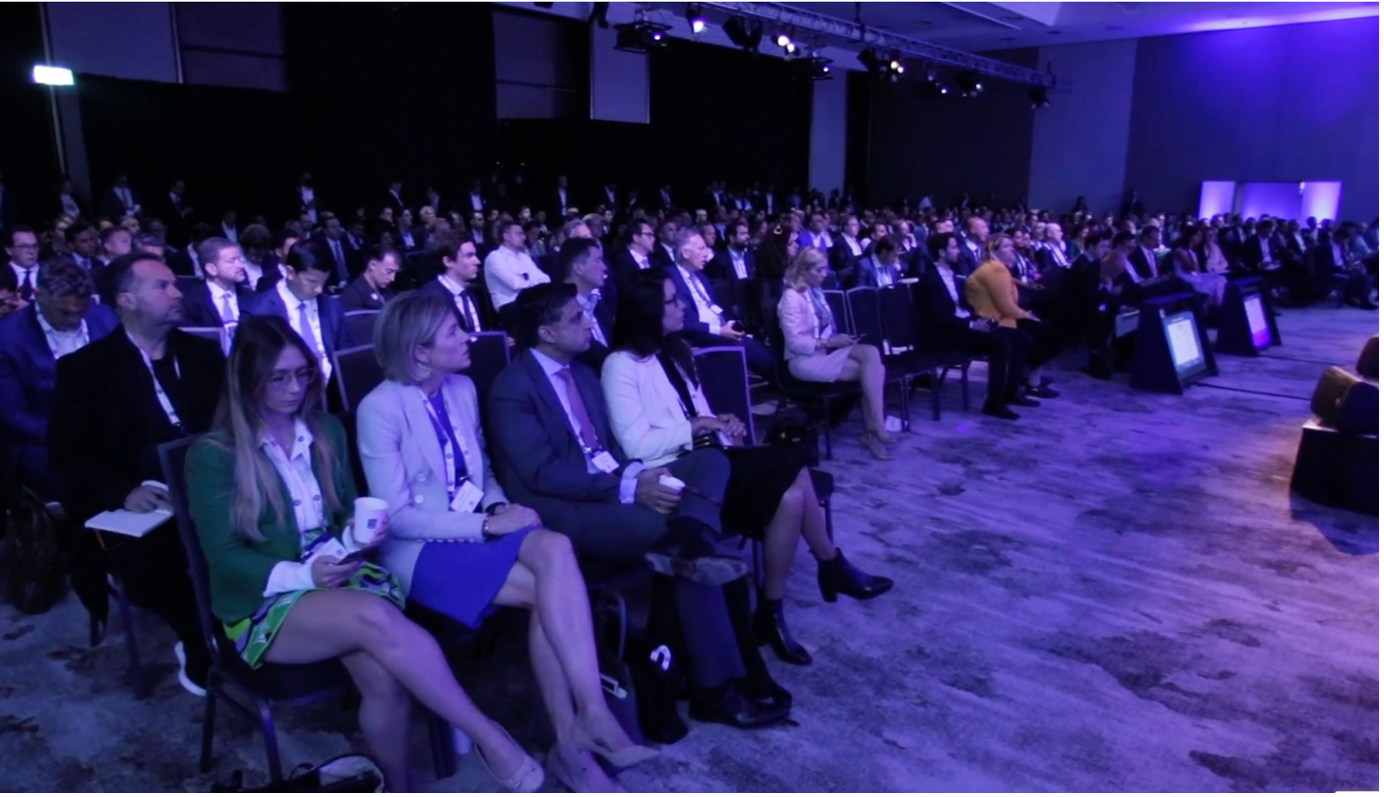 3. Mobile event apps will evolve to become your event 'remote control'
While a greater number of events are using mobile apps, planners by and large have not ventured far beyond the functions of registration, agendas, and perhaps basic networking. Expect this to change in 2023 as it becomes ever more important to capture audience data and gain a deeper understanding of how delegates are engaging with your content.
Forward-thinking organisations are using mobile apps as their live event remote controls, with previously unimaginable functionality in the palm of their hands. Audience members now have the ability to ask questions using Q&A, vote in polls, scan QR codes to download brochures or contact details from fellow delegates and follow live-streamed content from anywhere in the venue. They can scan the room for other subject matter experts, book meetings, and make video calls.
However you decide to extend the interaction with your event, make sure it serves a specific goal and value is clearly communicated in advance to your audience. Whether it's learning more about the interests of a particular segment of your audience or helping them network more effectively, ask your mobile app provider how to use new features to meet your objectives.
4. Smart events will open the door to personalised audience journeys
Digital engagement tools will transition from an afterthought to being the first principle of event design, interwoven throughout the event lifecycle.
Smart events offer greater 'return on engagement' to both audience and organiser by blending value-add digital touchpoints across every stage of the audience journey. All of this is essential if you want to boost digital adoption rates and continue the conversation with your audiences post-event.
Retailers have mastered the connected, personalised customer journey that flows between physical and digital channels for many years now. Expect to see events follow suit with things like targeted micro-events, personalised content, niche advertising within digital communities and automatic notifications of content that matches delegate's interest profiles. The natural evolution of smart events in 2023 will see planners do more with the data they collect to personalise the audience journey. The first step, however, is consolidating your data and selecting a platform that can offer a single, holistic view of your customer.
Read more on this topic in our blog: 5 ways to leverage smart event data to create high-value audience journeys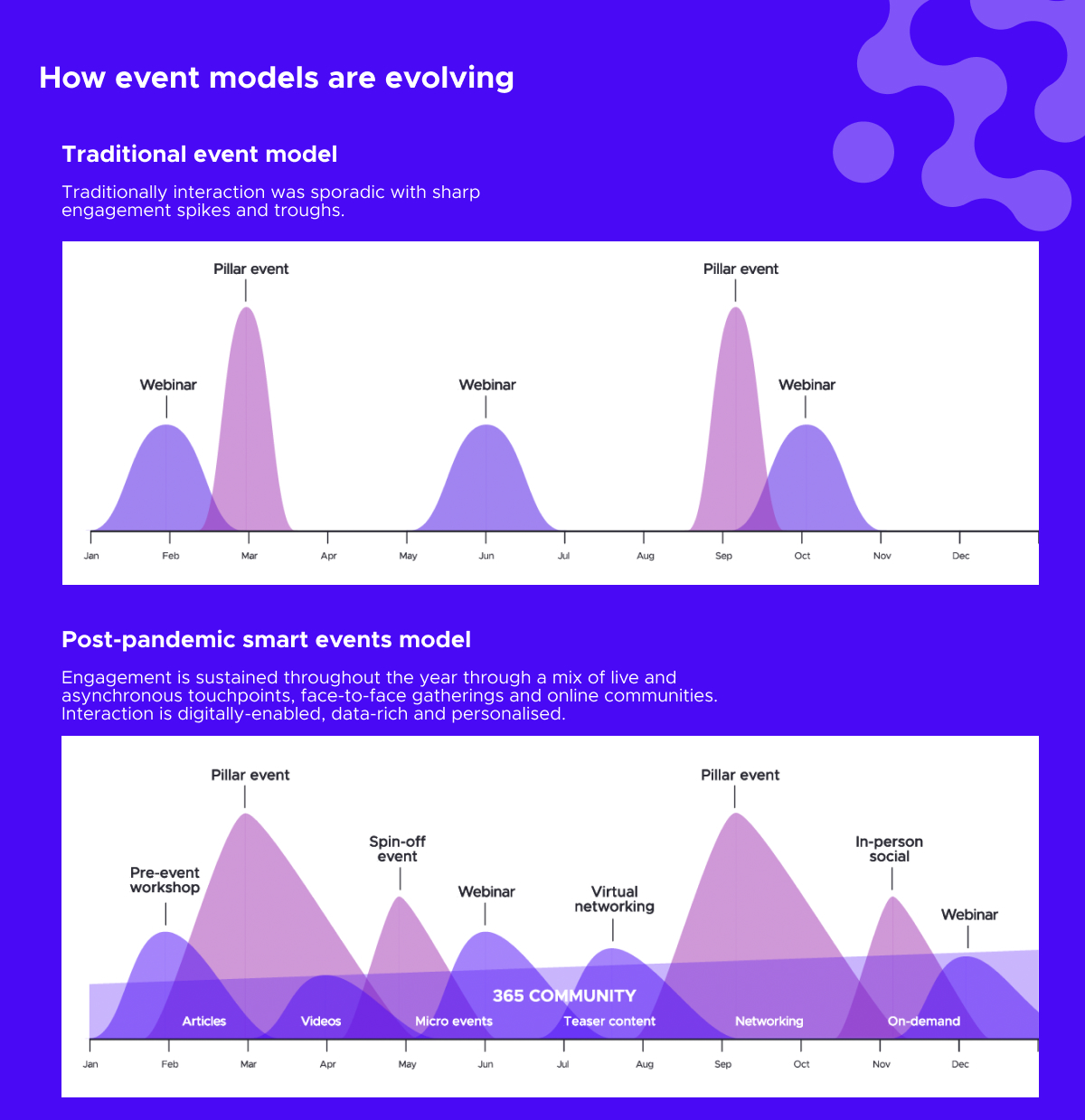 5. Rise of the 'audience-centred home' and digital communities
From super apps to smart TVs, there has been a surge in demand for a single, convenient gateway to all your interactive content. In 2023 events will follow suit. The drive to create a truly seamless journey will mean offering audiences on-demand content, webinars, polling, networking and registration all in one place, rather than directing them off to multiple separate channels.
While audience-centred homes will offer personalised spaces to gather, network and view content before, during and in the few weeks after the event, 365 communities will take this a step further. Offering access to news, thought leadership, networking, and targeted advertising opportunities, they offer new, multimodal ways to extend the conversation and get closer to your audiences all year round.
6. Increased focus on event data and ROI
According to the AMEX Global Meetings and Events Forecast, the cost per attendee is expected to go up by 7% for conferences and tradeshows across Europe, while the ICE is reporting overall spend in the corporate events sector is expected to rise by up to 83%. 
This of course means event professionals must work harder to demonstrate the value of their events and extend their value and revenue potential. For in-house corporate planners measuring leads and opportunities will become more commonplace, for commercial event planners it will be more about proving this sort of value to their sponsors. With a much larger digital footprint, events will become a vehicle to advance prospects down the funnel, nurturing them through increasingly targeted content.
As a prime source of first-party data, events will become particularly important for marketers when cookies are phased out at the end of 2023. They are the start of a human engagement with your brand which then makes digital marketing and community advertising much more compelling.
7. Diversity and inclusivity will be top of mind - always
According to AMEX, 87% of planners say their organizations or clients actively strive to incorporate DE&I into their meetings and events. However, there is clearly more that can be done; nearly two-thirds of all conference speakers globally are men, for example.
Providing minority groups with opportunities to share expertise, network and provide support for one another via digital communities is another way to help, as well as encouraging the next generation of talent by offering speaker training academies, and more intimate slots in front of smaller audiences to get under their belt first.
More digital tools are also available to help improve accessibility, such as sign-language displays and captioning in virtual environments and widgets like accessiBe that make landing pages more intelligible for people with wide-ranging disabilities. Ask your event technology provider what steps they are taking to help.
8. Smarter, more productive working will become essential
We all know event lead times have got shorter over the past year. This isn't likely to change any time soon so event and marketing professionals will need to find ways to save time and re-use, repurpose and upcycle content.
Here are three ideas to help;
Encourage user and partner-generated content from within your digital community. This could be anything from informal 'brain-date' sessions where small groups of peers get together to discuss and learn about a particular volunteered topic, to articles or Zoom videos.
Consider self-shoot options from your mobile phone so that you can get all of your team to capture multiple interviews with subject experts at your event that you can spread out for use in later campaigns.
Look for virtual event platforms with time-saving features. The process of building and editing agendas, emails and registration pages as well as the automation tools available can be quite different from platform to platform.
If you are thinking about extending the value proposition of your events or consolidating your existing event technology, having a strategic technology partner in place has never been more important.
Please get in touch to discuss how to maximise the return from your digital engagement ecosystem.